For the record: A commentary by Csibra, Senju, et al. on gaze following
In 2008, Atsushi Senju and Gergely Csibra published in Current Biology (18, 668–671) an often quoted and important contribution to natural pedagogy theory: "Gaze following in human infants depends on communicative signals." In 2014, J. Szufnarowska, Rohlfing, K.J., Fawcett, C., ...
State of the art research on social behavior
In Current Opinion in Behavioral Sciences 2015, 3, a really useful open access collection of review papers on state of the art research on social behavior edited by Molly Crockett and Amy Cuddy. From their introduction: "Social interactions shape and reflect who we are, influence what we ...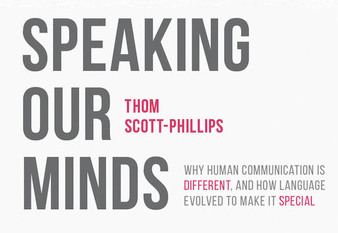 'Speaking Our Minds' Book Club June-July 2015
From mid-June to mid-July 2015, the ICCI website has hosted a Book Club devoted to Thom Scott-Phillips' book, Speaking Our Mind. The book has received positive reviews in various media, including the Times Literary Supplement (read Richard Moore's review here), and has been called "an amazing ...
Reflections on the Speaking Our Minds book club
I can say without reservation or qualification that the Speaking Our Minds (SOM) book club was the single most challenging and rewarding intellectual experience of my career to date. Every day for two weeks some very bright and engaged people posted extensive comments on my work, and initiated many ...