Moscow's stray dogs
From an article in the Financial Times, fascinating both from an anthropological and a biological point of view: 'According to Poyarkov [a biolo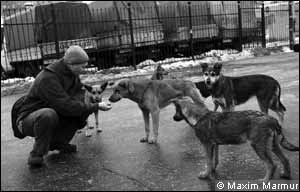 gist specialising in wolves who also studies these dogs, see picture], there are 30,000 to 35,000 stray dogs in Moscow, while the wolf population for the whole of Russia is about 50,000 to 60,000. Population density, he says, determines how frequently the animals come into contact with each other, which in turn affects their behaviour, psychology, stress levels, physiology and relationship to their environment.
"The second difference between stray dogs and wolves is that the dogs, on average, are much less aggressive and a good deal more tolerant of one another," says Poyarkov. Wolves stay strictly within their own pack, even if they share a territory with another. A pack of dogs, however, can hold a dominant position over other packs and their leader will often "patrol" the other packs by moving in and out of them. His observations have led Poyarkov to conclude that this leader is not necessarily the strongest or most dominant dog, but the most intelligent – and is acknowledged as such. The pack depends on him for its survival.'
You can read here the whole article here.