Why do we make our tastes public?
Facebook has recently changed the way it asks its users to endorse brands and celebrities on the site. Rather than ask people to "become a fan" of say, Starbucks or Lady Gaga, Facebook will instead let users click to indicate that they "like" the item.
Facebook already lets people "like" comments or pictures posted on the site, and users click "like" almost twice as much as they click "become a fan." Facebook says that replacing "become a fan" with "like" will make users more comfortable with linking up with a brand and will streamline the site. The Independent quotes Michael Lazerow, CEO of Buddy Media, which helps companies establish their brands and advertise on social networks such as Facebook: "The idea of liking a brand is a much more natural action than [becoming a fan] of a brand. In many ways it's a lower threshold."
But while it might seem to be less of a commitment to declare that you "like" Starbucks than to announce you are a fan of it, the meaning essentially would stay the same: Your Facebook friends would see that you clicked that you "like" a page and that's why users do it anyhow: to advertise their good taste or, to use Bourdieu's famous term, their "distinction" (below the break is one of the famous Bourdieusian graphs where cultural and economic capital are related to cultural practices. Although the data are quite old now, it still is fun to plot oneself in this kind of space).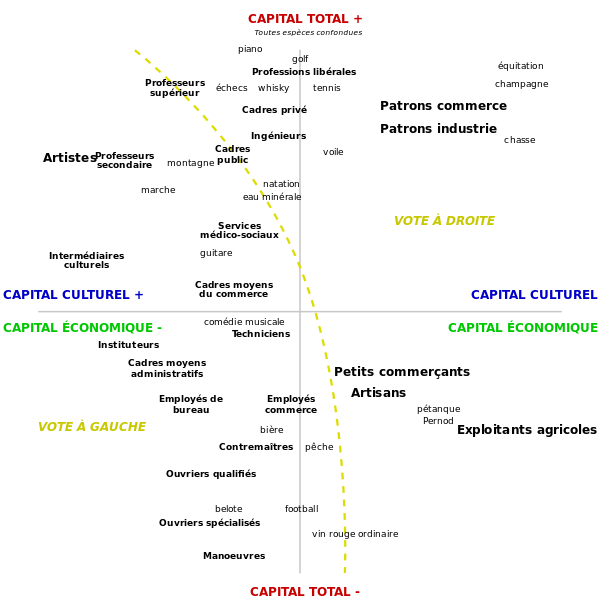 While reading The Independent, it came to me that the case of Facebook was relevant to a previous discussion on the ICCI blog: Why do ad-men think that people will buy more razors if they are advertised by Beckham?
A bunch of explanations was proposed to explain such a phenomenon. The first one was Robert Boyd's from whom Olivier Morin borrowed the example of Beckham. Boyd likes to illustrate prestige-biased imitation with the picture of David Beckham lending his name and face to sell razorblades. Olivier commented that this explanation suffers from several problems (is it really based on prestige? are we so dumb?). And following Olivier's post, several alternatives were proposed such as coordination (by Jean-Baptiste André), sympathy toward Beckham (by an anonymous guest), attention grabbing (by Christophe Heintz).
Facebook's "I like it" may offer another explanation, namely that people buy many goods to advertise their good taste and display their values. Take coffee for instance. By choosing a particular brand, you can convey information about your tastes, your degree of trendiness (think Nespresso), your wealth (think the price of a coffee at Starbucks), your political opinions (think fair trade, organic coffee, support of local communities), etc. (And, indeed, as I noted in a previous post, the more inegalitarian the society, the more people compete with each other and the more brands invest in advertisement).
Similarly, you do not convey the same signal if you wear a Beckham T-shirt or, say, a Cantona T-shirt (I guess I should update my knowledge of the Premiere League…). These two players are quite different and do not evoke the same values.
In a way, Facebook can be seen as a handy device to send a lot of very precise signals about your opinion and your values! (The average user becomes a fan of four pages every month, according to Facebook). Note that this theory of marketing is just a form of honest signal theory, advocated previously by Veblen in social sciences and Zahavi in evolutionary biology. The difference is that, instead of being focused on the display of wealth, this bourdieusian explanation is interested by other qualities that also need to be adverstised by individuals such as intelligence, social connections, moral disposition, etc.
To conclude, people may buy razors advertised by Beckham not because they think that these razors made Beckham successful or because they trust Beckham is such matters but because buying a razor linked to Beckham convey a certain message about their distinction (below the poster of "Le bonheur est dans le pré", a film with Eric Cantona, defending a certain epicurian French way of life, full of friends, simplicity, culture and foie gras, quite far away from the tacky touch of the Beckhams).