Do chimpanzees really care about equity?
One of the most popular Youtube videos in comparative psychology features capuchins exchanging tokens for food with a human experimenter. It is fascinating to see how outraged the capuchin becomes when realizing that the experimenter is giving her cucumber while she is giving out grapes (much more tasty food) to another capuchin! After watching this video, 
it is hard not to jump to the conclusion that capuchins, just like humans, are inequity averse. And yet many studies have casted doubts on this conclusion (here is a short review I wrote about this topic for ICCI back in 2009). For a start, why would capuchins (and chimpanzees and dogs) have a sense of fairness given how small (or null) the place of cooperation plays in their ecology?
In a new study just published in Proceedings of the Royal Society B, Jan Engelmann and his colleagues from Michael Tomasello's lab at the Max Planck Institute for Evolutionary Anthropology in Leipzig put forward a novel hypothesis—the social disappointment hypothesis—according to which food refusals express chimpanzees' disappointment in the human experimenter for not rewarding them as well as they could have.
They tested this hypothesis in a new design in which food was either distributed by an experimenter or by a machine and with a partner that was either present or absent (see picture).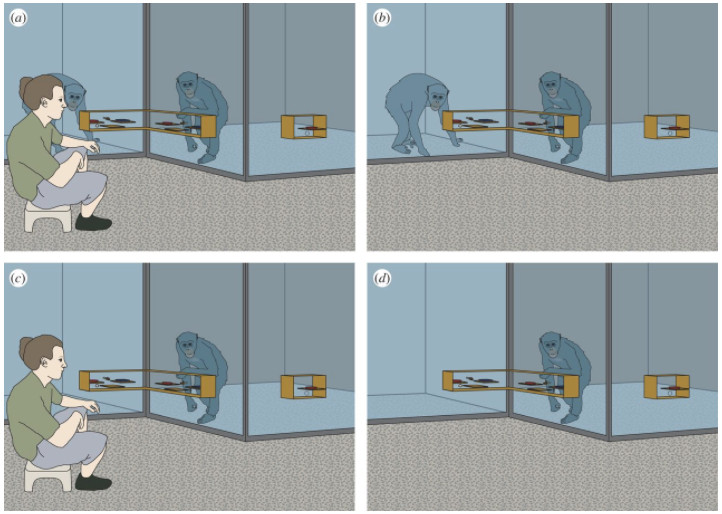 They found that chimpanzees are more likely to reject food when it is distributed by an experimenter than by a machine and that they are not more likely to do so when a partner is present. In other words, what looks like moral outrage is actually social disappointment.
A great methodological lesson, and an important study for the understanding of the evolution of human cooperation.